Thrive on Kilimanjaro
The climb to end hunger and malnutrition.
Each September, a team representing Thrive for Good sets out to summit Mount Kilimanjaro to raise funds for families and communities living on one meal or less a day to grow their own nutritious food, sustainably.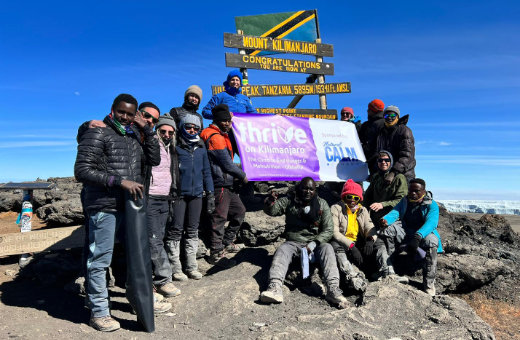 The Documentary
In September 2021, a team of eight, including 68-year-old Thrive For Good founder Dale Bolton, set out to climb Mount Kilimanjaro, Africa's tallest mountain. They did this to raise awareness for Thrive's work, conquer obstacles and showcase that significant change starts with a single step.
Filmmaker Nate Slaco documented the story along the seven-day Machame route to create an impactful documentary.
If you ever wanted to see what it's like to climb this iconic mountain, you won't want to miss this incredible film!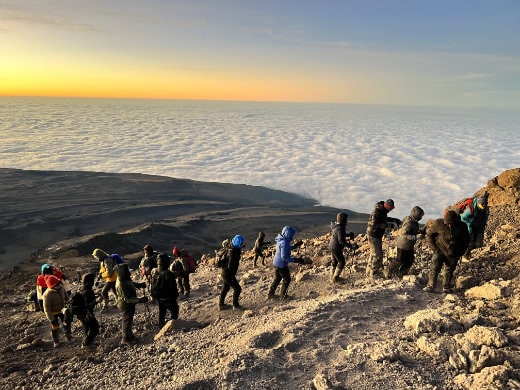 In-Person Climb
One of the most exciting aspects of the Kilimanjaro fundraiser is that there is an in-person climb of Kilimanjaro happening simultaneously as teams worldwide climb virtually.
Each year, a team of determined individuals embarks on the incredible 6-day climb of the tallest peak in Africa, which sits proudly at 19,340 feet.
If you're interested in climbing in-person, please email us at [email protected].
Virtual Climb
Want to support the cause while challenging your own fitness?
You can virtually summit the 19,340 feet to the top of Mount Kilimanjaro by climbing stairs, hiking, walking, or running.
Join us from wherever you are! All it takes is a pair of running shoes and determination.
The 2023 Kilimanjaro Fundraiser page will be coming here in July 2023.
Did you know that it takes 154,720 steps to climb to the top of Mt. Kilimanjaro and back down?
Meet Some of the Climbers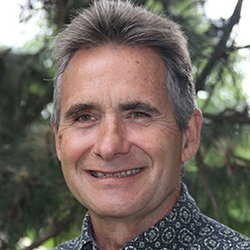 "In my 68 years, climbing Kilimanjaro was one of the biggest highs, spiritually, physically, and relationally as we worked together to reach the summit. The mountain completely emptied us and filled us up at the same time. The convergence of all three was so powerful."
– Dale Bolton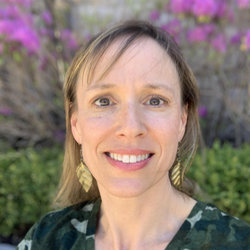 "Climbing Kilimanjaro has been on my bucket list as I spent 10 years as a kid growing up in Kenya. When I was invited to join Thrive, I jumped at the chance!
I currently live in Oakville, Ontario in Canada with my husband and 3 kids. I am a nutritionist, home cook and I volunteer for Thrive, helping with online education, writing cookbooks and engaging with donors.
I was able to take my family back to Kenya a couple of years ago and we were lucky enough to visit the training centre in Kitale to see the projects and communities that Thrive engages with."
– Katherine Boggs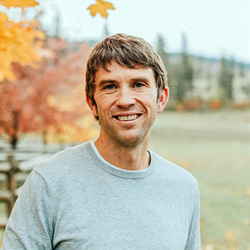 "My first encounter with Thrive was in 2017, when I received a call from one of my life's most respected business leaders. He had just returned from a trip to Kitale, Kenya, where he was introduced to Thrive, its leaders and its methodology. He pleaded with me that it was the most effective and scalable way to put a 'dent into ending global food insecurity.'
Within 2 years, I was also convinced and began to leave the daily operations of my Vancouver-based businesses to come to lead the next season at Thrive. I haven't looked back since. The excitement at Thrive with our rapid growth, expansion and impact is invigorating.
I now live in Vernon, BC, on a hobby farm with my incredible South African wife and 3 young children."
– James Woller
Corporate Sponsors
Become a Kilimanjaro Corporate Sponsor by emailing [email protected].
When your business partners with Thrive for Good, you will join the movement to end hidden hunger. A successful partnership can strengthen your business in many ways.
Cultivate Customer Loyalty
Energize Your Staff
Boost Sales
Strengthen Brand Recognition
Employee Retention
Past Kilimanjaro Sponsors
Canada's Most Decorated Olympian and World Champion
In 2022, Penny Oleksiak supported Thrive's Kilimanjaro campaign to raise awareness and funds for families and communities living on one meal a day to grow their own nutritious food – sustainably.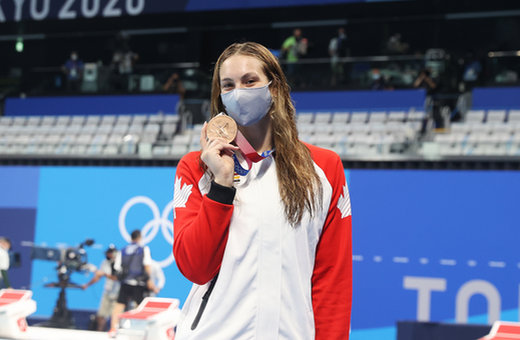 In The News
Global News interviewed Thrive's International Executive Director James Woller and his wife Rose about their recent Kilimanjaro climb.
Climbing Stories
"That was the hardest thing I have ever done in my life."
Very few times can you say, "That was the hardest thing I have ever done in my life." This was the case with our team's summit of Mt. Kilimanjaro last…
Katherine's Kilimanjaro story – so good I did it twice…
What images come to mind when you think of East Africa? Blazing heat? Wildebeest and zebra migrating across the savannah? Dhows on the Indian Ocean? The smell of earth as…