What images come to mind when you think of East Africa? Blazing heat? Wildebeest and zebra migrating across the savannah? Dhows on the Indian Ocean? The smell of earth as the rains begin?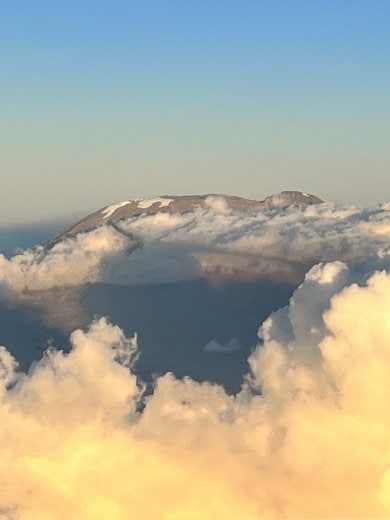 How about freezing temperatures, high altitudes, wind, and pitch black?
Yeah, not the typical images but this is how I found myself at 1am on 'summit night' dressed in 6 layers of warm clothes inching my way up a mountain.
A team of 14 climbers came together to climb Mount Kilimanjaro for Thrive for Good, a charity I have been volunteering with for the last 4 years.
The goal was to raise awareness of the food security issues around the globe.
Some of us were friends or colleagues, some of us knew no-one, but by the end firm friendships had been made.
It truly was the journey as well as the destination that brought us together.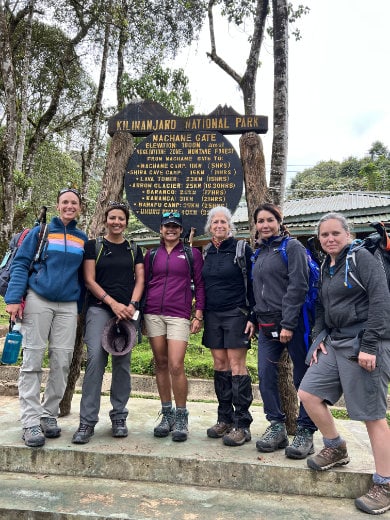 My group was made up of 6 ladies (plus many more who supported us on the virtual walk back home).
We called ourselves the Polepole Mamas (slowly in Swahili!).
Together we haveraised nearly $30k, 3 times our goal, to help female farmers in Tanzania.
The knowledge that so many people had donated was certainly a motivating factor as I slogged my way up in the dark.
We chose the Machame route which we found out afterwards (thankfully) was the second hardest route.
Add in that we completed it in 6 days not the usual 7, and the scene is set for the hardest thing I have ever done.
Day 1: Machame Gate to Machame Camp – 11km, 9,927ft, Rainforest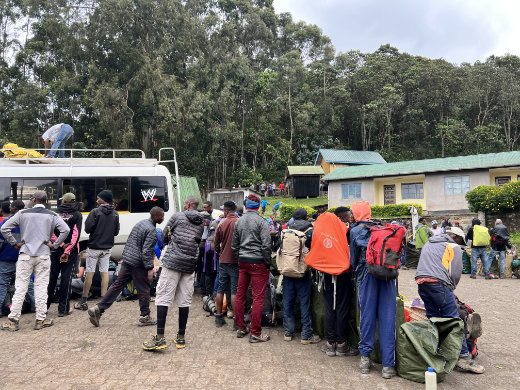 Day 1 was long.
We set off from Arusha on a 3 hour bus ride to the gate where we patiently waited for our porters and guides, and to be registered for the climb.
Finally we set off walking, passing through tropical rainforest.
Spirits were high but soon began to dwindle as we realised we weren't going to make camp before dark.
That was a tough day and it was only the first.
The first night was stressful. Freezing cold, hungry, and rather dejected we all tried to remain positive while scrambling around for clothes and figuring out where the toilet was in the dark!
Day 2: Machame Camp to Shira Camp – 5 km, 12,355ft, Heath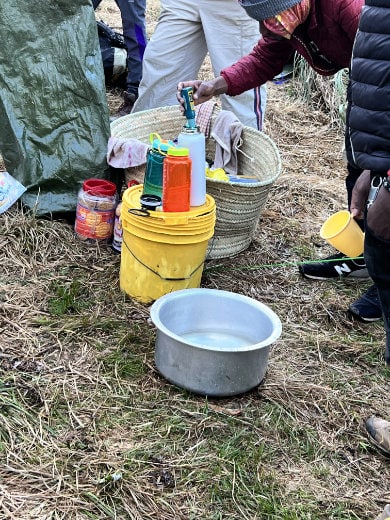 Everything was so much better in the morning.
Woken up by coffee or tea in the tent, we emerged to a beautiful campsite set in amongst the rainforest.
No time to linger though – a quick carbohydrate heavy breakfast and off we set for another day of hiking.
The food we were given on this trek was amazing.
Cooking over 1 propane stove in a tent, the cooks produced such quality and quantity that we were never hungry.
Water has to be carried or collected from streams and sterilised.
Day 3: Shira Camp to Lava Tower to Barranco Camp – 11km, 13,066ft, Moorland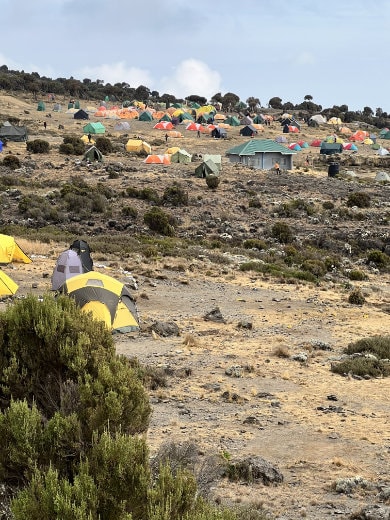 The days took on a pattern – wake up, get up, eat up, drink up, pack up and lace up. And don't forget sunscreen!
Today we hiked up to the Lava Tower, the idea being that we would hike high and sleep low to help us adjust to the altitude.
It was hard work. The distances look short but the gradient and need to be slow to acclimatise, prevented us from charging ahead.
The Polepole Mamas certainly lived up to our name, we were in no hurry. Each afternoon we arrived in camp to a tent, a bed and our bag.
The porters carried all of this at pace up the mountain on their backs and heads, bypassing us with smiles and jambos.
There was a huge team that got us up the mountain from guides to porters who carried equipment, water and toilets, to cooks and the day porters who came up to each camp with fresh food.
There's no CERB in Tanzania, people don't have savings to fall back on. Life was extremely hard for everyone during COVID but life is gradually getting back to normal with tourism starting up again.
Day 4: Barranco camp (Barranco Wall) to Karanga Camp to Barafu – 8.5km, 15,330ft, Alpine desert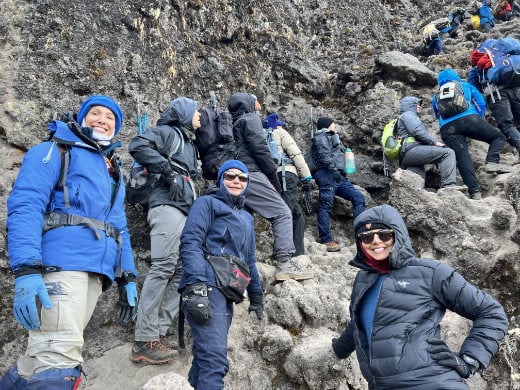 I think this was my favourite day!
Barranco wall – 300m of climbing vertically over rocks, switchbacks and breathtaking views.
Looking down those coming behind us looked like ants.
Hot lunch at Karanga Camp as we still needed to reach base camp.
Unfortunately, one of our Mamas was struggling by now. She made the tough decision to descend and not try for summit – headaches, nausea and fatigue got to her.
Although hugely disappointing, nothing is worth your health. Everyone's Kilimanjaro is at a different point and that might not be at 19k feet.
Arriving at base camp or Barafu Camp was sobering. Literally on the side of the mountain it is busy, noisy, windy and ugly, and is the starting point for the summit.
We had a quick dinner and then tried to get a couple of hours sleep. Impossible.
Day 5: Barafu Camp to Summit and return – 10km, 19,340ft, Arctic Barafu Camp to Millennium Camp – 4km, 12532ft, Rainforest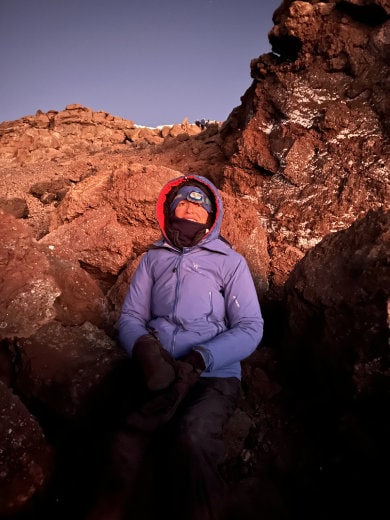 And this is how I found myself at 1am. Nervous, frozen, questioning my sanity.
Why was I doing this? Oh yes, its been on my bucket list since I lived in Kenya as a child.
Hmmm, when I was younger and fitter, not nearing 50 and had no husband and kids who depended on me and missed me… Seemed like a good idea back then!
No words can really do summit night justice. It was by far the hardest thing I'll ever do.
I had to trust the guides who encouraged (rather commanded) us to go polepole. Plod, plod, plod.
I had to dig really deep mentally – saying my husband and kids' names each time I planted a pole and took a step became my mantra.
And I'm not afraid to admit I cried, more than once. Ok probably at least 5 times.
It didn't help that at least ten people from other groups turned around and came back, not able to make it. This isn't something to be taken lightly.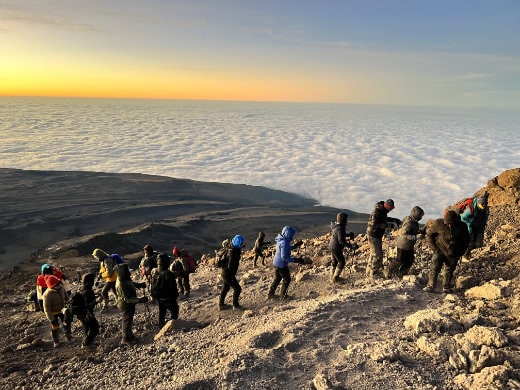 Seeing sunrise at 5am lifted everyone's spirits but we still hadn't reached Stellar Point, the bump before the final ascent.
Plod, plod, plod.
The terrain was slippery with loose shale. I thought we would be walking on ice?
Where were the famous glaciers? Oh yeah, global warming…
Even in daylight it was hard to look around. The one consistent view were the boots and legs of the person in front of me.
After Stella Point it's about 1 hour until the summit. So tantalising, you can see the sign, the people in front of you who had already made it, but still we needed to go slow.
It was another 600ft in elevation, still time to get altitude sickness and not be able to finish.
Summit. Uhuru Peak on Kibo cone. 19,340 feet. Africa's tallest mountain and the largest free-standing mountain in the world.
Reaching it was honestly an anticlimax. I know that's not what I'm expected to say but I had nothing left to feel. I was drained emotionally and physically.
However, sitting on a rock just ahead was another Polepole Mama. I shuffled over. We hugged. That small gesture meant everything. Now I felt something! Wow, I had done it.
Photos were taken, videos thanking everyone were shot and we started back down. 100 yards down the path and I pulled up short. THERE WERE NO PHOTOS OF JUST ME AT TOP. In all the commotion I had forgotten.
Should I photoshop myself in later was my first thought?! No that would be ridiculous! I was never going to do this again, ever. I had to go back up and take a real one.
I threw my poles down and literally ran back up, passing a few groups of plodders who clearly thought I was bonkers, the altitude having gotten to me.
My guide was still at the top with my phone and the look on his face was priceless. "Mama Katherine, what are you doing?" "I, gasp, don't have, gasp, any photos, gasp, of just me" Oops.
Photos taken, I set off for a second time, the descent being almost as hard. 3 hours of slipping and sliding back to base camp in the sun.
I paid for that later with blisters on my lips because I'd forgotten my sunscreen.
1am brain freeze. No-one really talks coming back down. The goal is to ascend but of course what goes up must come down.
It was another 3 hours to the next camp. 3 hours of downhill hiking over rocks and gravel, toes being squished into the front of boots. I'm sure a few toenails would be lost as a result.
Day 6: Millennium Camp to Mweka Gate – 13km, 5350ft, Rainforest Mweka Gate to Arusha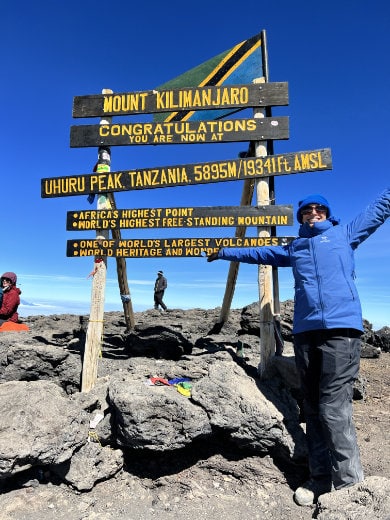 Today was the last day on the mountain.
Continuing our descent, we passed through Mweka Gate, took photos at the last sign, signed out with the authorities so they knew we weren't still on the mountain and collected our certificates.
We thanked our amazing porters in a tipping ceremony and headed back to Arusha. Exhausted but full of accomplishment.
That last morning was beautiful. The sun was on the mountain, the clouds were hiding the peak. It looked majestic.
Were we really up there yesterday?
Yup, and I have the photo to prove it, luckily.