Thrive for Good is a charity established to bring nutrition, health, economic security, and hope to the poor.
Thrive's vision is to empower 1 million people in the developing world by 2025 to lead healthy and sustainable lives by training them to grow an abundance of nutritious, organic, whole foods.
Thrive is made up of World Changers who believe that everyone should have the opportunity to thrive, regardless of race, ethnicity, socio-economic status, or criminal history. This is why they boldly launched the Prison Partnership Program.
The goal of the Prison Partnership Program is to create opportunities to increase the health outcomes for prisoners and provide them with the skills and knowledge to grow organic Life Gardens with income-generating potential for themselves, their families, and their communities following their release.
Although Thrive has been working in various prisons in Kenya since 2014, last year it expanded significantly in impact. Specifically, the Men's Kapenguria Prison, where 34 inmates and 8 officers in charge (OIC) attended the first 5-day Growing Health Workshop.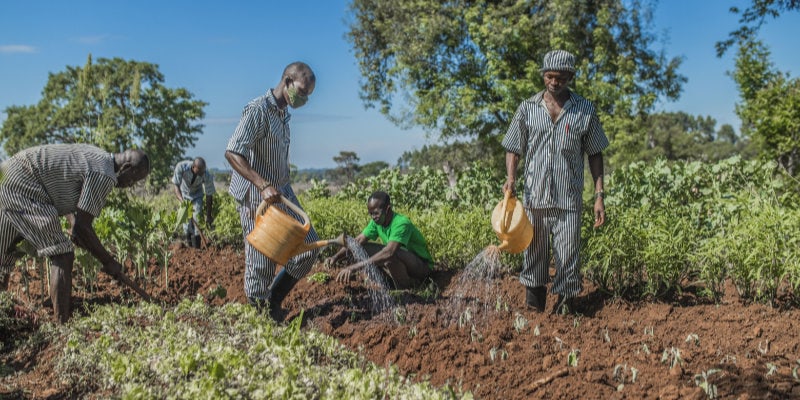 After one month of practice and training, the men had prepared 8 long garden beds that would yield approximately 2,500 meals per month. As the men continued to progress and increase their harvests, the nearby women's prison requested to be part of this program.
In the Women's Kapenguria Prison, 18 female inmates and 7 OIC attended the same workshop and developed 20 standard garden beds, creating, on average, 1,200 meals per month.
Thrive currently partners with 7 prisons in Kenya to train inmates in Life Garden practices, which produce enough nutritious organic food to feed both inmates and staff. They also learn transferable gardening skills, giving them the capacity to generate income upon release. It's fantastic evidence of the power of organic farming.
Last year was particularly challenging as COVID-19 posed a dangerous threat to inmate safety. However, the Kitale Main Prison, together with Steven Wanjala, the Assistant Farm manager on the ground, made an immediate plan to provide herbal teas to all 1,100 inmates and staff as the best natural medicine to help prevent an outbreak.
Each day, prison staff prepared 40 litres of tea, combining Ginger Lemongrass, Artemisia, and Moringa. Artemesia is an indigenous plant to East Africa used in all Thrive Life Gardens.
It has 19 disease-fighting compounds that make it the most potent immune booster among all leafed plants. Additionally, a team of 50-60 police officers came to the garden every day to have a cup of immune-strengthening tea.
Throughout the 775 projects and over 70,000 community members that Thrive works with, there were no reports of any health impacts of Covid-19. This is a powerful demonstration of the preventative benefits of natural medicine and healthy nutritious foods on creating robust immune systems.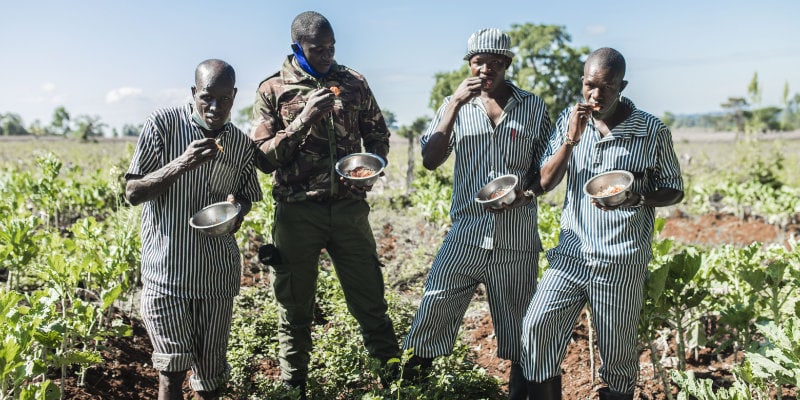 The Thrive for Good trainers working directly with the inmates saw lives transformed that will extend to communities and through generations. A group of 8 prisoners were fully rehabilitated, trained, and are now leading community impact projects helping to lift over 500 people out of poverty.
But, what really cannot be measured is the what if's. To think that most inmates often go back to violent crimes and return to prison, one can only imagine the actual transformation and impact this program has.
Speaking of this program's success, the Kenyan Prison Service Department of Affairs contacted the Thrive for Good office in Kitale, Kenya, and requested a partnership, expanding the prison program to over 100 prisons in Kenya.
The impact could grow to well over 50,000 inmates. Imagine how much further that impact could grow if prisons and other institutions globally began the same process of training inmates to produce organic, healthy, nutritious food for themselves and their communities, effectively rehabilitating them and giving them hope for the future.
Our efforts to solve global challenges of shelter, education, clean water, economics, and healthcare will only get traction when everyone has equal access to nutrition. We can all join the movement to help eradicate poverty.