Our 10th Anniversary – A Blog Series
Often we look back and wonder where the past few years have gone. This is especially true for Thrive as we celebrate our 10th anniversary. The last decade has involved a lifetime of amazing progress and wonderful experiences. Continue to follow us through our "A Decade to Remember" blog series and find out the challenges we overcame, the amazing testimonies we received and see some of our favourite photos.
40 Million Orphans
The idea of Thrive started out with a problem that would just not go away. This problem involved 40 million unsupported orphans in the continent of Africa. To put this into perspective, this ridiculously high number represents more than the entire population of Canada.
With 40 million unsupported children in the streets, we knew we needed a giant-sized solution. We also knew that this solution needed to be flexible so that it could be used in any community, anywhere. We had introduced ourselves to an enormous challenge that needed an even bigger solution.
80% of the Best Farmland Not Used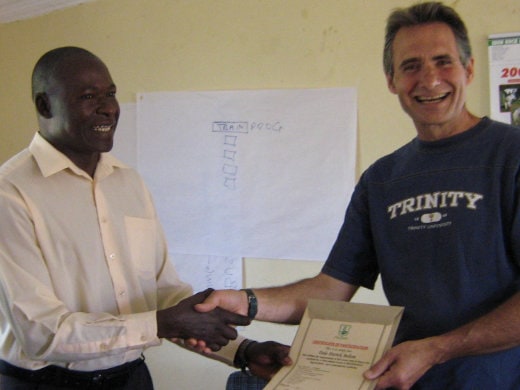 We soon found out that growing food in Africa had gone downhill during the last two decades. The reason being that fertilizers, pesticides and seeds had become increasingly expensive. This hit us hard as we knew that 25% of the best farmland in the world is in Africa and 80% of it was not being used. Therefore, we needed to develop a more economical way of growing food.
After doing some research, Dale discovered the Bio-Intensive method of organic gardening. Dale continued to learn as he attended a one-month seminar in Kenya that focused on organic gardening. One lesson that stood out claimed that 21st-century organic gardening grows 2-6 times as much food per square foot than conventional farming. Additionally, it uses less water, no chemical fertilizers and only simple tools.
Thrive was Born
Dale identified that one of the trainers teaching the seminar had a heart for unsupported children. After many cups of tea with this man named Boaz, the idea of Thrive was birthed. During the year of 2008, strategies and plans to help local orphan care communities were created. Additionally, several five-day organic gardening workshops were completed in various communities.
Boaz did an amazing job during Thrive's first year as every project he started, 3 other communities saw his work and wanted the same help that he was providing. Thrive was immediately growing and was off to a great start!
A Decade to Remember Continues…
Want to read the rest of our story? Follow us on Facebook to receive updates as we continue this blog series and share our experiences that occurred during the first 10 years of Thrive.