A story of how Nic Soontiens and his wife won a trip to Africa with Thrive.
Local Grocery Store Visit Turns Into a Trip to Africa
When my 11-year old daughter and I popped into Nature's Way Select Foods & Brewing Supplies located at 2676 County Road 43 in Kemptville, never would we have imagined that we would walk out of the store with a FREE TRIP TO AFRICA!
Well, we didn't exactly know that we had won a trip until several months later, but to this day we still think, "what are the chances!?"
Nature's Way was having a customer appreciation day in 2016 when my daughter and I stopped in. Seeing the store decorated with banners, balloons and various door prizes to be won certainly got our attention. As we nibbled on free samples here, filled out some ballets there, we noticed this one eye-catching enticement: "Win a Trip for 2 to Kenya, Africa!"
Natural Calm Canada Supports Trip to Africa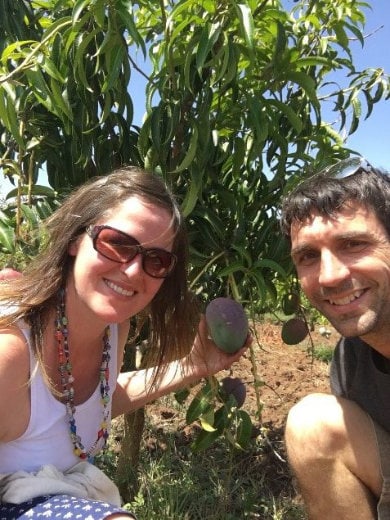 The trip was sponsored by Natural Calm Canada, a high-quality magnesium supplement well-known to customers and those in the natural food industry. So 'naturally,' I filled out a ballot! Having secured our groceries, we went on our merry way. Several months later we received a call from the Natural Calm Canada head office.
They indicated that I had won the national grand prize: a trip for two to Kitale, Kenya, including a safari! At first, I immediately interrogated the girl on the phone to confirm that this was not a scam. Then I was dumbfounded and over the moon all in one! That one phone call started a chain of events that brought us to the amazing continent of Africa. A trip that my wife Jules and I will not soon forget.
Dale and Linda Bolton are the co-owners of Natural Calm Canada and every so often, they sponsor a trip such as the one that we were a part of. One of the reasons they do this is to bring awareness to an amazing organization that is changing lives in Africa. They started a non-profit organization called Thrive which is funded by the proceeds from Natural Calm. Thrive has one lofty goal: to end extreme poverty. With the opportunity to participate in a hands-on way during our trip to Kenya, Jules and I saw the direct impact that Thrive was having overseas. As I scrutinized the model that they are using to achieve their one goal, I remember thinking that it just makes so much sense!
Thrive for Good Teaches Anyone and Everyone
Thrive has a training school in Kitale, Kenya. Here they teach students, young and old, how to grow organic food at low cost. The graduates then work with others in their respective communities to start up community gardens. They also build nutritional awareness of what healthy eating actually looks like. While at the training center, the students also learn about food security, income generation, and disease prevention.
We got to visit several of these community garden projects. It provided the opportunity to connect with the locals who were involved in growing their own food. Despite the harsh conditions of the dry season that these communities face, it was clear that Thrive is having an impact. The graduates teach the members of the community the skills they have learned. This allows the community members to have nutritional food to eat and are able to grow healing, immune-building foods, and as a result, are healthier.
A 19-year old Girl Shines Light in the Kitale Prison
One out trip to the Kitale Prison showed this model in a "win-win-win" kind of way. This community garden project was started in the prison by a very special Kenyan girl named Joyce. She was only 19 when she started the prison garden project. At the time of our visit, it was an incredible thing to behold. Prisoners had something very positive with which to occupy their time in jail. As well, upon release, they actually had transferable skills and the capacity to generate income. They were eating their own healthier food, which meant lower food costs for the prison and fewer inmates at the infirmary. After seeing the multi-faceted benefits to this particular project, Jules and I believed in the model that Thrive is using to reach their goal of ending extreme poverty.
To be able to participate in this amazing journey where we saw once-sick people healthy again, hopeless people with a passion for the future, and countless lives transformed Jules and I still think about all the lives that Natural Calm through Thrive has impacted. Although, we are not sure which lives were impacted more, and it leaves us wondering, "what are the chances!?"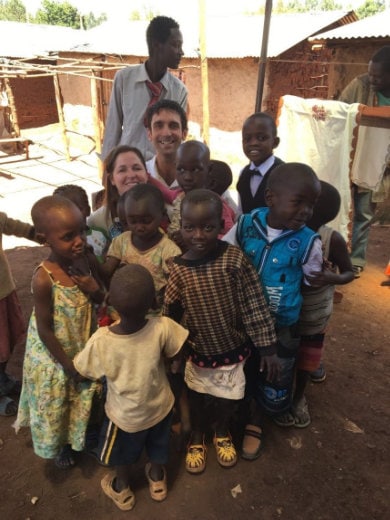 Nic Soontiens is an infantry officer with the Canadian Armed Forces. He lives in the Kemptville area with his wife Jules and their children.
Win a Trip to Africa This Coming January!
Click here to find out more about how you can win a trip to Africa in 2018.
Take part in the unique experiences that Nic and Jules had.