Birthday: November 2, 1992
My Journey with Thrive
While I was attending college, I can recall returning home to see a few men working in our family garden. They created nice garden beds and planted a variety of crops that I often only saw in grocery stores. My family and I really loved the work that they did in our garden.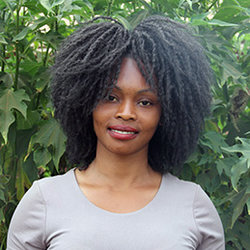 A few years later, my mum and I were strolling through our neighbourhood when we heard celebrations taking place at Thrive's Growing Health Institute. We were intrigued to find out what was going on, so we stopped in.
During our visit to Thrive's graduation ceremony, my mum reminded me about the men that used to work in our garden and that they had come from Thrive. I instantly fell in love with Thrive and dreamt of working with them. Today, I realize that the dream has come to pass.
In April 2016 there was a vacancy for an accountant. Since I was a trained accountant, this vacancy was an opportunity for me to fulfill my dream. By God's grace, I was taken in and I started working for Thrive in May 2016.
Since then, the journey has been amazing. I really enjoy being with Thrive as it feels more like a family than a workplace.
What is your favourite vegetable?
Kale and spider herb.
What is your greatest achievement?
Ever since I started working with Thrive, my health has really improved. Before I suffered from severe ulcers, my blood count was really low, and I was very underweight. I never used to eat vegetables because the chemicals used to help them grow would make me sick. Today, I eat lots of organic vegetables, kale is one of my favourites. Also, I used to always be sick with malaria and I have not had it in a long time. Through Thrive my health has become my greatest achievement.
If you could visit anywhere in the world you've never been, where would you go?
Any island in the world, Dubai and the states.
What is your favourite quote?
"For such a time as this" from the bible. Every person, situation or place in life has a good reason. Always find the beauty of everything, no matter how ugly it may seem.
What is your favourite family tradition?
Praying together.