Partners Everywhere
The year 2013 involved the development of many partnerships. Overall, partnerships were created in three different countries. The first being a Canadian NGO called Bopoma Villages, located in Zimbabwe. Their mission involves overcoming poverty by equipping people with the tools to do it themselves. Bopoma Village works in 12 different communities in Zimbabwe. In short, they work towards creating food, water and health sustainability for all. Our partnership with Bopoma Villages involved them recruiting one of our staff, Elias, to work with them. In addition, they sent two of their staff to intern in Kitale for 6 months with us. All in all, we have learned lots from each other.
The second NGO that Thrive partnered with was Provision of Hope, another Canadian NGO. Ultimately, Provision of Hope's focus is on serving the poor in Liberia. To aid them in their mission, Thrive sent a trainer to help, Jacob Lototo. Jacob spent 2 years helping this organization and during his time in Liberia he experienced the deadly Ebola outbreak. Thankfully, none of the staff were affected by this outbreak.Africa New Life Mission was the third organization to partner with us. Operating in Rwanda, this organization exists to transform the lives and communities through preaching the Gospel of Jesus Christ and through acts of compassion. Immediately after partnering with us they requested that one of our trainers join them. Theo, our trainer, answered their prayers and started Growing Health programs for them. Before long, hundreds of gardens were set up and used by the organization.
Kenyans Create the 4th Big Idea
Back in Kitale, Kenya, many community groups started gaining tremendous confidence in their growing. With so much confidence instilled in them, they began growing more than what they needed and started selling their surplus to create income. During this time, the fourth big idea to end extreme poverty was created – income generation. We thought that this was the perfect way to end the progression of development of our four goals. Our goals state that personal health needs to be in place or sickness will rob any profits made.
Growth Beyond Expectation
Internally, Thrive continued to advance by welcoming another staff member. Peter Montgomery, a retired NGO executive, volunteered his time to help improve the Growing Health Seminar. As well, Ambrose Motian who was a staff trainer for many years accepted the promotion of becoming the Growing Health Seminar director.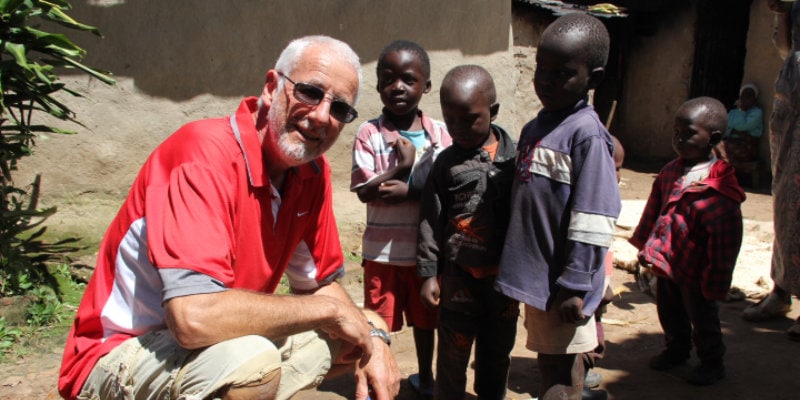 In 2013 Thrive hosted two one-month seminars. With our help being constantly needed, this number increased to four one-month seminars in the year 2014. These seminars created very knowledgeable and motivated graduates who we invited back to become interns. Quickly we had 24 interns and 12 full-time staff, Thrive was growing exponentially. With the increase in staff and interns, the number of projects that were created in East Africa skyrocketed. Many people were getting fed disease-fighting foods and lives were being saved.