Insight Trips to Kenya
Join us on an unforgettable, life-changing trip to Kenya.
Encounter Kenya through an Insight Trip.
Meaningfully experience the land, its people, culture, and story. And discover Thrive's work in person.
Insight trip highlights include:
View Kenyan wildlife on a trip to the Masai Mara National Reserve
Experience a day in the life of rural Masai communities
Visit with Thrive Trainers in communities, prisons and schools to hear first-hand from the teachers, leaders, community members and students we serve
Interact with inspiring Kenyan leaders who are leading Thrive and shaping the country's future
Relax at the Thrive Wellness Center and Guesthouse where all of your meals are freshly prepared from the harvest of our Life Gardens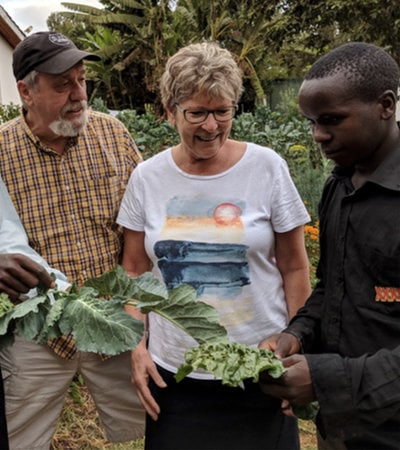 Trip Focus
When you travel on a Thrive Insight Trip, you'll get a firsthand look at both the beauty and the challenges of our world. Our local team will guide you through neighbourhoods, teach you about history, and introduce you to communities that have been transformed. You'll build relationships with fellow travellers, locals and the Thrive community.
You'll spend time with experts in the field who know the culture inside and out. Their personal perspective will give you an intimate understanding of how we work alongside communities to create opportunities, grow health and teach nutrition.
Insight Trips are safe, eye-opening, and unforgettable adventures. When you're on an Insight Trip, you aren't a regular tourist. You're an explorer. You're a student of the world. And you'll return home inspired, encouraged, and changed.
So come journey with us. We'll take care of all the details and ensure you have the trip of a lifetime. It will be an experience unlike any other—one that will change you forever.
Budget
The cost for a Thrive Insight Trip of 7 days is approximately $2,200 USD per participant which includes flights, accommodation (based on double occupancy), transportation, food, and related program costs. It does not include optional extension trips (game drives and safaris) Kenyan visas, immunizations, medications, and health insurance.
Insight Trip Team
We take approximately 3-5 trips per year. Each trip is led by either James Woller, our International Executive Director, or Dale and Linda Bolton, our Founders.
The Fine Print
The budget for the Thrive Insight Trip (TBD) will cover the basic itinerary. This includes flights, accommodations (based on double occupancy), transportation, food, and related program costs. The basic itinerary does not include optional extension trips, Kenyan visas, immunizations, medications and health insurance.
Thrive takes responsibility for participants during the core program. If you, the participant, decide to arrive earlier or stay later than the core dates, please make arrangements for food, lodging and travel. Note that costs incurred by participants outside of the core trip are not considered tax deductible by revenue agencies.
The $2,200 USD cost of a participant's trip is considered a donation and therefore cannot be returned for any reason. All donations must indicate that their contribution is for the Insight Trip Program to be eligible for a charitable donation tax credit.
Thrive Insight Trip participants may be asked to share their trip experience on social media, through blog posts or other channels of communication. You may decline these opportunities.